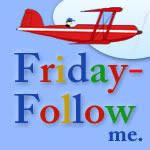 This is my first time of participating in Friday Follow. Visit
here
to find out more and to join in.
If you are visiting me due to participating in Friday Follow, hello and welcome to my little home in blogland. Hope you can get a little glimpse in to my life from this blog. Any questions, please ask.
Off now to have a look round the other participants blogs and see what lovely & fun things they are up to.